Have a question? Here are some of the most common support inquiries we receive.
How long will I have access to my NYU Classes course sites?
Full access to your previous courses in NYU Classes will be maintained for the next academic year. Further reduced access from year 2 through 10 will be provided to faculty and school admins. For more information please contact the LID team (
law.learntech@nyu.edu
)
How do I enroll in self-paced training for NYU LMS?
Login to
brightspace.nyu.edu
using your NetID credentials.
All instructors should see a banner with GET STARTED. Simply click on the
enroll in self-paced training
link. Clicking
Discover
in the top menu bar will bring you to the same page. Then select the "NYU LMS (Brightspace) Instructor Training 101" course card and click
Enroll in course
.
Navigate back to the NYU LMS (Brightspace) homepage (by selecting the NYU logo in the top left corner). The training course will be added to your
My Courses
widget on the NYU LMS dashboard.
How do I create a Practice Site?
Login to
brightspace.nyu.edu
using your NetID credentials.
Scroll down the page until you see the
My Practice Sites
widget on the right side. Click the
Create New Practice Site
button. The widget will refresh and display a link to your new course site. Simply click to open.
Note: Practice Sites are independent of Law School course sites.
Support admins do not have access to them unless you specifically add them to the course site
Classlist
under
More Tools
in the top menu bar.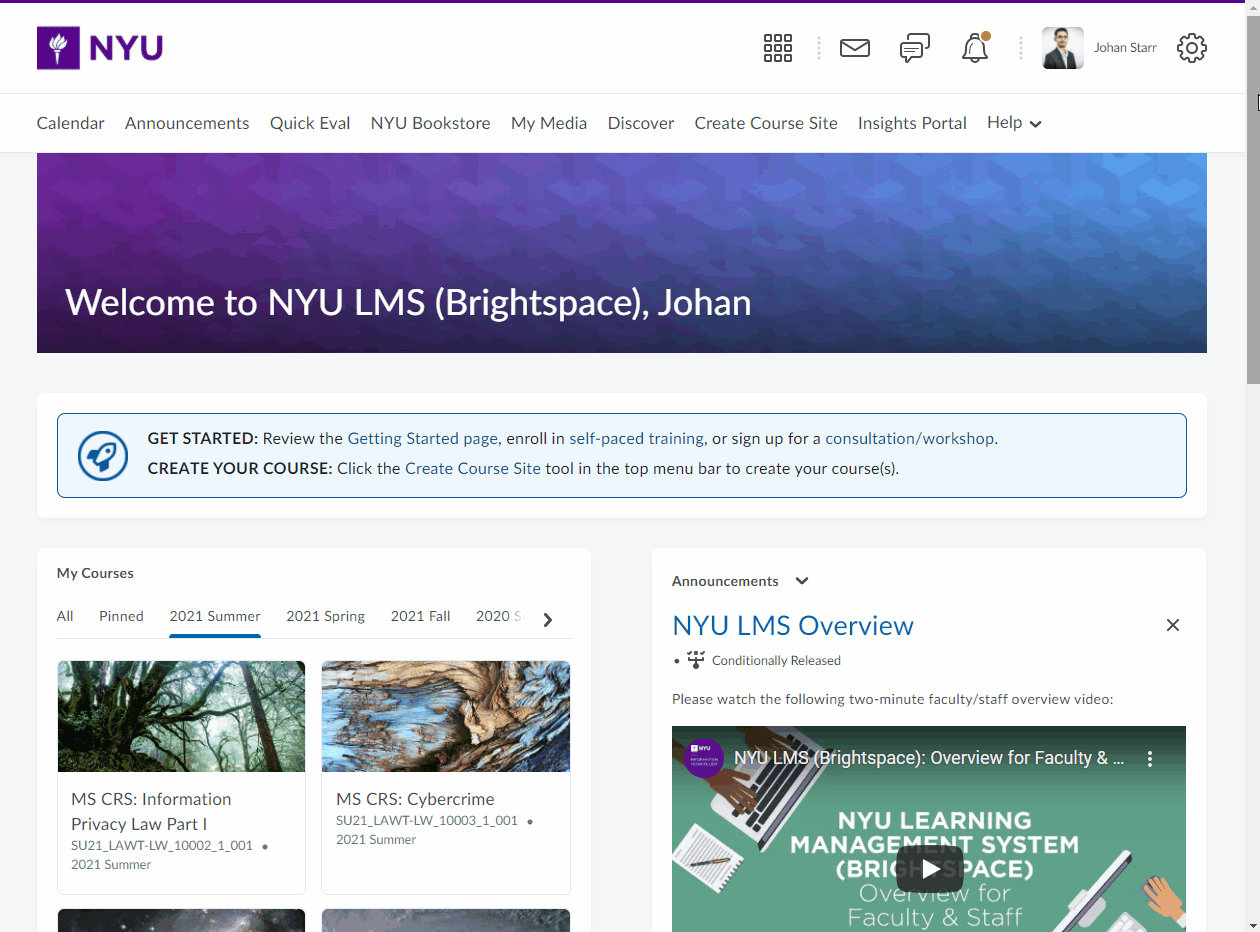 Why is my NYU Brightspace course site title being shown as the course code?
When creating your course site in NYU Brightspace, if you combined two or more course sections into a single course site, the resulting site title will be the course code.
For example, merging sections 1 and 2 of Evidence will result in the course site being labeled "LAW-LW 11607 001-2" instead of the actual course name.
To fix this, click on the
Course Offering Information
link located on the course site homepage (below the green or red box indicating site status and visibility). Then in the
Course Offering Name
box, enter the correct course name and click Save at the bottom of the page.